Basane
Executive Director, Founding Member

Basané Cadiene began her study of Middle Eastern dance in 2001 in the interest of pursuing an alternate form of exercise. She quickly became enchanted with the art form and soon began performing with her instructor, Bambi Neito, as a member of her troupe Hips Accepted of Sterling, Virginia. When she moved to Maryland in 2004 she continued her dance education with Amara and El Naar Haninah in Gaithersburg and danced as a member of the semi-professional troupe, Raqs Roqs!
Her performance history includes local restaurants, workshops, festivals, charity events, and even a live broadcast on WMZQ radio. She placed third in the Rising Star category of the 2003 East Coast Bellydance Classic in Virginia Beach. As a teacher, she has held classes for the City of Rockville, the Asbury Village Retirement Community, the American Alliance for Health, Physical Recreation, and Dance, and the Wise Woman Foundation.
In addition to her extensive experience both in the studio and on stage, Basané acts as an esteemed businesswoman for the group, wisely guiding them through the everyday paperwork, planning, and organization required to maintain a professional troupe. She additionally maintains her own company, Hips-etc.
Kamilah
Member Since 2012
Although relatively new to bellydance Kamilah is not a newcomer to the stage, having studied and performed in various forms of dance and theater since childhood.  Motivated by curiosity and an urge to break out of her typical exercise routine, she took her first bellydance class with Ananke in 2009.
Although first attracted to bellydance for the physical benefits – muscle toning, flexibility, core strengthening… Kamilah quickly fell in love with the joy, serenity, and creative self expression that she experienced when dancing.  Being new to the area, she welcomed the opportunity to develop new friendships by participating in such a woman-focused group activity.
She is delighted to be part of Sahara's Treasure and looks forward to the continued enhancement of her dance skills and the development of her new friendships.
Celeste
Member Since 2012
Celeste first discovered bellydancing at a Halloween party in college.  Intrigued by the full tribal costume she saw, she pursued classes with Kenna and was quickly entranced by the movements and aesthetics of the art form.  Her studies included tribal/tribal fusion and American tribal style with Kenna, lessons with Ayse Cerami and Elizabeth Mahina of She'enedra in Los Angeles, and workshops at TribalCon in Atlanta.  She performed with Kenna at local health and art fairs, and debuted her first self-choreographed solo.
Celeste drifted away from dancing to focus on school (and also due to limited bellydance opportunities in Mississippi), until moving to Maryland.  She began classes with Ananke and found herself in a new world of "cabaret style" bellydance.  But variety is the spice of life (and dance !) and she embraced the new flavors of the cabaret dance style.  
Celeste enjoys all aspects of costuming and makeup that bellydance has to offer.  Never tired of playing dress up, she counts sewing, costuming, performing, and attending conventions like DragonCon are among her favorite activities.
Members Since 2013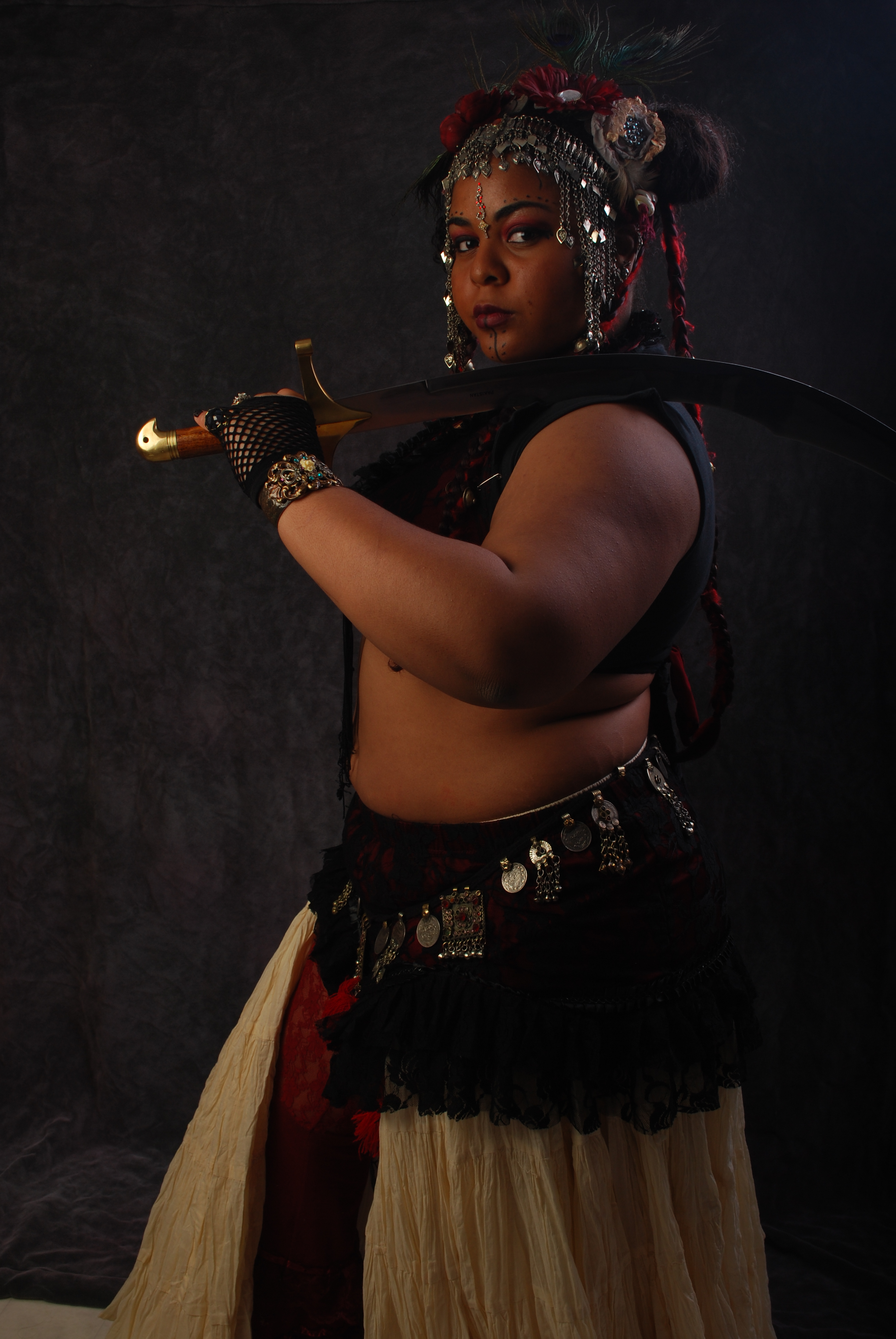 Akrivi
Madame Gypsy

Zahra
Zita Kelly


Keslyn
Executive Member, in absentia
Keslyn has been involved in the performing arts since her youth ~ from puppet theater and choirs growing up in Ohio, to community theatre in Ontario, Canada. She began studying Middle Eastern dance in 2006, in Gaithersburg, Maryland with El Naar Haninah and Amara. Keslyn acted as emcee for student showcases and as dancer-liaison for Sahara's Treasure's Haflaween. It was not until nearly three years after her first class, when studying under Ananke, that she felt the urge to move from back stage to center stage, performing in class routines and finally choreographing her own solos.
Keslyn's mindset is "If you feel it, dance it!" and her first solos were American fusion pieces to Irving Berlin's Heatwave by Holly Cole and Bruno Mars' Just the Way You Are. Her first performance with Sahara's Treasure was the recent, moving revival of Laurel Victoria Gray's Cry of the Heart.
She has taken workshop classes with Frank Farinaro and Piper and live band workshops with Studio Nadirah and Turkish-Arabic Band Taqsim. She currently studies with Nadirah Nasreen and continues to learn so much more about belly dance history, costuming and music from close friend and mentor Sabeehah Dahlal.

Amunet
Executive Member, in absentia
Amunet was first introduced to belly dance in college when she attended a friend's student recital. She was immediately fascinated and entranced by the costumes, music and movement of the dance – it never occurred to her to try it because she was not a dancer. It was not until 2010, when she began taking classes with Ananke (as a creative form of exercise), that she realized you didn't have to be a dancer to dance – you had to dance to be a dancer. She fell in love with the energy of the dance, the music and the sense of freedom and community that it inspires.
Amunet joined Sahara's Treasure in 2011 and takes workshops and classes with as many instructors as possible including Nadirah Nasreen, Ankara Rose, Susan Mills and Laurel Victoria Gray. More recently she has taken workshops with Olivia Kissel, Madame Onca, Belladonna and Mira Betz. She enjoys learning and incorporating different techniques and cultural influences into her choreographies, including oriental, tribal and Celtic-inspired fusion dances.
For the last 3 years she has volunteered with the Gaithersburg Linkages to Learning program at Summit Hall ES where she taught an afterschool dance class for students (grades 2-5). She also volunteers for A.R.T.S. (Art Rocks the School) Day at Pine Crest ES, introducing 3-5 graders to the art of Middle Eastern Dance.
In 2013 she became an Executive Member of Sahara's Treasure and helps to manage the events and business aspects of the troupe, as well as providing creative input. In 2014, Amunet was invited to join the Silk Road Dance Company® as an apprentice dancer.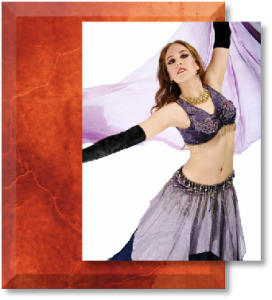 Ananke
Executive Member, in absentia, Founding Member
Ananke began her study of Middle Eastern dance in 2003 in her hometown of Rockville, Maryland. She performed professionally and taught in the D.C. Metropolitan area for over four years before moving to New Hampshire to attend graduate school. She now teaches and performs out of Keene through her company Ananke Dance.
On stage, Ananke performs with unforgettable dramatic intensity, cultivated from a continued practice of technique and form. A favorite at evening galas and competitions, her style may convey traditional American cabaret or influence from her training in ballroom and other world dance. In the classroom, her dedication reflects a love for nurturing a shared passion and a joy in bringing out the latent potential of her students. Always devoted to health and safety, she is certified in the Veda Sereem technique of beginning dance instruction and in group fitness by the American Council on Exercise.
She is an award-winning performance artist, having placed third in the NorthEast Bellydance competition in Pennsylvania, Headliner division, in 2009, and first in the Personal Best competition in Ohio, Headliner division, in 2010.