Annual Middle Eastern Dance Hafla for Students and Professionals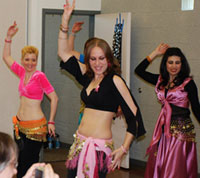 Join us for our 10th Annual Shiver Me Shimmies!
April 29, 2017
Doors open at 2PM
Elwood Smith Community Center
601 Harrington Road
Rockville MD
Shiver Me Shimmies Recital / Hafla is a family-friendly show. The theme "Shiver Me Shimmies" can be interpreted many ways. (Arrgh – do I see pirates…? Well shiver me timbers.) Originally it was just a reference to the cold wintery day of our very first show, which was held in early February. Brrrr, our shimmies were really shivering! This year the show is in early spring. Let's hope the warm weather continues or we could still be shivering well into April. See you at the show!
Tickets
Purchase your tickets in advance for just $8 (suggested donation at the door is $10)